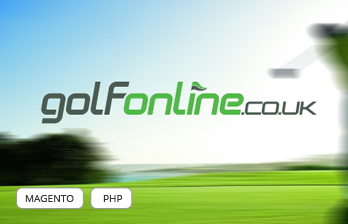 Online Ecommerce Store (Sports Equipments)
Client: UK Based Client Client Vertical : Sports Project Type: Custom eCommerce Web Store Technology Used: ASP.NET MS SQL SSRS
Client Overview
About Client:
Client was established in 2000 and has grown into one of Europe's leading authorized retailers of branded golf equipment. With a range of over 10,000 items from Golf Clubs and Golf Clothing to Golf Shoes, Golf Bags and Golf Accessories. They have 30,000 square foot warehouse sits right behind their flagship retail store, Golf In Store- fitted with the state of the art Custom Fitting Suite and putting green.
Requirement Overview:
Client wanted to develop robust and user friendly online store for selling golf related products and accessories. The store would be selling all golf related items such as clothes, equipments, accessories and various products to their buyers at flexible price range along with different best deals. Client wanted SEO friendly eCommerce website for easy selling. They wanted to improve perfor mance of their website and better security. Client's requirement was to convert the existing PHP based site to ASP.NET with ecommerce functionality for better security and performance. Client wanted to develop multi lingual and multi currency website to reach to global customers.
Client wanted to have following backend functionalities too:
Inventory System
eCommerce Management
Payment & Shipping Service
Customer Management
CRM
CMS Management
Proposed Solution:
Silver Touch has provided solution to the client based on ASP.NET Framework 4.0.
We proposed SEO and User Friendly website with better performance features.
We have proposed all processes and transactions related to payment, courier service and manual shipping at the end of day, so site administrator can view and manage all transactions together.
We have used SSRS reports for brief information. We have proposed Sage Pay and PayPal for online payment.
We have used Metapack (3rd party tool) for shipment.
Propose to implement I18N standard methodology for multi lingual website.
Close
DOWNLOAD Casestudies
Complete the following to download this Casestudies.