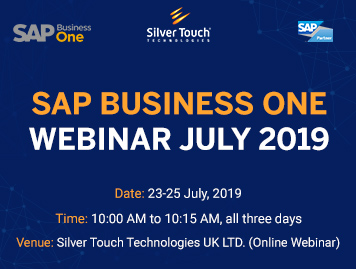 The SAP Business One Webinar
Join us for these 15 minutes webinars to get valuable insight about SAP Business One, a leading ERP for Small and emerging businesses that want to make the next step.
23rd July 2019 – Tuesday (15 Minutes Only)
24th July 2019 – Wednesday (15 Minutes Only)
25th July 2019 – Thursday (15 Minutes Only)
10.00 AM to 10.15 AM, all three days
Craig Buck, Head of Sales – Silver Touch Technologies UK LTD
Silver Touch Technologies UK LTD, (Online Webinar)
Salisbury House, 29 Finsbury Circus, London – EC2M 5QQ, UK
About Webinar
We are to run a series of three webinars for three days, each webinar of 15 minutes with a round of Q&A at the end. Following topics are to be covered in the webinars:
During these FREE Webinar, our expert will discuss:
23rd July 2019

An All-in-One solution – Is your business ready for SAP Business One?

24th July 2019

Analytics and Reporting – Understand what SAP HANA can bring to your Business

25th July 2019

Retail and ERP – Maximise your potential with an SAP Business One Retail solution
About Speaker:
Craig Buck is a very experienced Software Professional, been involved in the industry since 2005. He has worked with multiple ERP, CRM and Business Intelligence solutions including Sage, Microsoft, Infor, Qlik and now SAP. This gives him a substantial knowledge of the market and a deeper understanding of business needs.
In addition, he holds an MBA which he obtained in 2002 which allows him to have a complete commercial understanding of all elements of business processes. This enables him to understand pain points and provide practical solutions to businesses across a variety of verticals.
He has dealt with customers from Distribution and Manufacturing through to Professional and Financial Services. Currently he works closely with a range of clients in wholesale and distribution. This wide range of practical experience makes him an ideal person to discuss potential enhancements to your company systems.