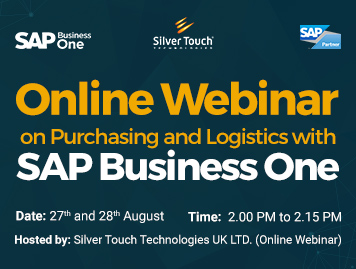 Purchasing and Logistics with SAP Business One
Discover how SAP Business One will provide you with comprehensive purchasing management functionality and enable your business to optimize and streamline your entire purchasing process. Also, SAP Business One for logistics is the best fix for companies with complex warehousing and large number of stock movement.
27th August 2019 – Tuesday (15 Minutes Only)
28th August 2019 – Wednesday (15 Minutes Only)
02.00 PM to 02.15 PM, both the days
Craig Buck, Silver Touch Technologies UK LTD
About Webinar
We are to organize two webinars for two days, each webinar of 15 minutes with a round of Q&A at the end. Following topics are to be covered in the webinars:
During these FREE Online Webinars, our expert will discuss:
27th August

Improving Orders and Deliveries using SAP Business One – Are you noticing a decrease in customer satisfaction, especially around orders and delivery? Are you missing important deadlines for customer deliveries? Do you want to keep your customers delighted and satisfied? This presentation will highlight how SAP B1 can help businesses to drive efficiency in logistics.

28th August

Purchasing with SAP Business One – How can we improve procurement efficiency and coordinate purchasing behaviours across all departments? Can we manage our suppliers better to secure favourable trading terms? In this presentation we show you how to have better control over the purchasing process in your organisation.
About Speaker:
Craig Buck is a very experienced Software Professional, been involved in the industry since 2005. He has worked with multiple ERP, CRM and Business Intelligence solutions including Sage, Microsoft, Infor, Qlik and now SAP. This gives him a substantial knowledge of the market and a deeper understanding of business needs.
In addition, he holds an MBA which he obtained in 2002 which allows him to have a complete commercial understanding of all elements of business processes. This enables him to understand pain points and provide practical solutions to businesses across a variety of verticals.
He has dealt with customers from Distribution and Manufacturing through to Professional and Financial Services. Currently he works closely with a range of clients in wholesale and distribution. This wide range of practical experience makes him an ideal person to discuss potential enhancements to your company systems.