Close
Avail Free Consulation
See Your Cash Position at a Glance
Speed and agility are vital to outmanoeuvring larger competitors with greater resources. As a business you need to understand the implications of every decision and action you take without losing momentum – or losing sight of your vision.
The SAP® Business One application offers an affordable way tomanage your entire business – from accounting and financials,purchasing, inventory, sales and customer relationships, andproject management, to operations and human resources.
SAP Business One helps you to streamline processes, gain agreater insight into your business, allowing you to act faster andmake decisions based on real time information.
Over 55,000 companies worldwide trust the SAP Business One® application. SAP Business One is designed for small andmidsized companies.It is flexible, modular,yet powerful andwith its user-friendly interface, it is easy to use!
SAP Business One empowers your employees to make smart,confident decisions, faster by capturing all critical informationacross sales, customers, operations, and finance – making itinstantly available company-wide. By integrating this data inone system instead of multiple disconnected spreadsheets,it eliminates duplicate data entry and other related errors.
For growing businesses, the quality of cash flow forecasting can make the difference between thriving or surviving. SAP Business One version for SAP HANA includes a cash flow forecasting app that dramatically improves your cash balance visibility. In just a few clicks, you can configure the calculations to track the moving parts of your cash flow: sales orders, purchase orders, down payments, recurrent postings and other critical cash-related transactions.
The result is a clear snapshot of your cash balance, taking into account thousands of documents, accounts, orders and payments, so you can ensure you have the cash you need to run your business and seize new opportunities as they happen.
Let us show you how SAP Business One can empower your organisation. Download our SAP Business One guide today!
For further information please contact us:
Phone: +44 (0)203-872-5140
Email: info@silvertouchtech.co.uk
Web: www.silvertouchtech.co.uk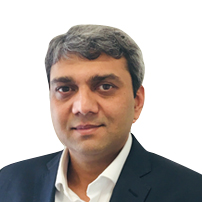 Kunjan Jasani
An experienced business leader, heads the UK operations of Silver Touch Technologies Ltd. With 15 years of experience in the industry, he has set the track record of delivering transformation and revenue growth with SAP Solutions.