Close
Avail Free Consulation
Guide to Building an Agile Retail Organisation
The use of disparate systems and standards, increasing mergers and acquisitions, and the need to cope with fast-paced change has increased the level of complexity for today's retailers' IT landscapes. Most established retailers have their core business systems running on legacy environments that are rigid and expensive. This complexity, in turn, adversely impacts their ability to scale up and become future-ready. With digital advancement revolutionising business models and creating new opportunities, organisations with legacy environments are experiencing a gap in their ability to meet business needs. This delivery gap will increase in proportion to the change the retail industry is expected to undergo unless the legacy infrastructure, architectures, processes, and UI/UX are modernised by undertaking a simplification program. What is needed is synchronisation — across channels, technologies, databases and even across corporate structures.
Let's take a look at the key components of a simplification program that lays the foundation for a robust digital organisation:
Architectural Approach to Simplification
When faced with the limitations of legacy systems, retailers end up devising workarounds and patches that further create incompatibilities among different layers of the technology stack and its processes. These incompatibilities and complexities in current IT environments make it necessary for retailers to holistically and architecturally approach simplification to redesign the technology landscape and its processes.
Modernising Application Portfolio
Modernisation of application architecture should include responsive front-end, micro-services based digital architecture. The modernisation effort should be complemented with the adoption of ERP software on-premise or in the cloud to integrate omni-channel seamlessly and provide a rich user experience.
Cloud Enablement
Infrastructure efficiency should be evaluated alongside applications in terms of cost, utilisation, performance, availability and alignment. Adopting virtualisation and grid computing, optimising storage and migrating to hybrid cloud models can help retailers achieve performance improvements and significant cost savings.
Creating an Integrated Data Architecture
Retailers with real-time information can make effective data-driven business decisions to stay ahead of the competition. That involves collecting structured and semi-structured data from various sources to make informed, real-time decisions. Developing an enterprise data strategy is crucial to simplification efforts and should focus on unified data architecture for simpler yet innovative data management.
Simplifying Processes
Retailers who lack cross-channel IT integration are not able to stay competitive. The simplified technology architecture needs to be supported by streamlined and automated IT processes and practices that enable agility. Adopting automation-as-a-culture and innovation-as-a-culture can significantly accelerate IT delivery capabilities. SAP Business One for Retail allows a unified customer engagement platform, which makes it a strategy, one worth pursuing.
Conclusion
The importance of an omni-channel setup has never been so important. Retailers have to cater to the growing number of Millennial and Generation Z consumers (the first completely mobile generation in the marketplace) and thus serve an omni-channel customer. Simplification of the IT landscape through SAP Business One is the key to becoming nimble regardless of size. To find out more about how SAP Business One can provide a sharp competitive edge in today's retail tough times, visit us at the Retail Business Technology Expo 2017 held on 8th and 9th May, stand no. 396. You can also call us on +44 – (0) 203-872-5140 or e-mail at info@silvertouchtech.co.uk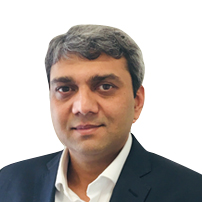 Kunjan Jasani
An experienced business leader, heads the UK operations of Silver Touch Technologies Ltd. With 15 years of experience in the industry, he has set the track record of delivering transformation and revenue growth with SAP Solutions.