Close
Avail Free Consulation
How SAP Business One Will Help Wholesalers in 2016?
As an ERP solution SAP Business One has offered many advantages to SMEs across numerous verticals and business sectors. With an established global presence, with over 41,500 customers', SAP Business One is available in 25 languages and localizations in 41 different countries. It offers a standard set of tried and tested business solutions to meet the needs of a fast-growing Wholesales & Distributor. It is an integrated solution that allows businesses to manage different aspects of their business and these include Logistics, Finance, Sales, HR, Customer Relationship Management, plus many more.
For
Wholesale & Distribution Software Solutions
, the SAP Business One solution promises even greater solutions in the coming year and here we take a look at some of the ways in which SAP Business One would help wholesalers in 2016.
Better Visibility
In the business of Wholesale & Distribution, tracking every transaction is of great importance for increased profitability and cutting down on the losses. SAP has brought in major changes to its ERP solutions that will offer businesses better visibility into sales orders, warehouse inventory, logistics and other financial aspects of this distribution process. This visibility helps in bringing down the costs and increasing profits.
Analytical Capability
Analytics is the road to success in modern business. You need to know what's in demand and what's passé in the market! The faster you are able to spot these trends and changes in customer behaviour the better it is for your business. This new tool will improve your analytical capability and your ability to take faster action with more confidence.
Automation
Automation helps eliminate human errors and makes daily business processes more efficient. It simplifies the entire process in which inventory is managed at the warehouse. This also helps in lowering events of emergency shipments by as much as 15% which leads to reduced operational expenses and better use of your staff in the warehouse.
Improve Collaboration
The success in the Wholesale & Distribution business often rests on the flexibility of collaboration with the suppliers, the distribution network, the retailers or the end customers. With SAP B1 you will be able to improve collaboration that helps your business. The solution has undergone many improvements recently and these will help you bring down the purchase order time by as much as 50% and also reduce the distribution and delivery time by 15%, allowing you to make better use of resources.
Obsolete Stocks
From FMCG wholesalers to those that are associated with the Pharmaceutical or Paints, obsolete stocks can often lead to losses. Industry research shows that without an intelligent solution, between 20 – 30% of inventory for an average wholesaler comprises of obsolete stock. Apart from the financial losses, obsolete stocks could also prevent you from meeting the requirements of your clients. With SAP Business One, you would be able to reduce this burden, since you would have real-time stock updates down to individual products and batches. The opportunities that can be taken with this SAP Business Ones' ERP solution are unparalleled and present many opportunities for Wholesalers & Distributors in 2016. If you want to get the best out of this solution you need to seek help of experts in this area, who are not only experts in the implementation of
SAP Business One
but more importantly understand the business process of a given industry.
About Silver Touch
Silver Touch globally has been a partner of SAP for over 5 years and has implemented over 90 solutions in 15+ industry verticals. Our services include SAP Business One license procurement, installation, implementation, customisation, add-on development and training and support. We have a team of technical and functional professionals that can help you in executing all your business needs. We understand your wholesale & distribution business, its processes and its requirements before deploying the solution, thus offering you bespoke services. We ensure that our Wholesale & Distribution clients can leverage the full potential of the unique features of SAP Business One and have access to its latest features, giving them the advantage of our world-class consulting services. We also provide seamless post-deployment support and offer prompt resolutions to all your queries. For further information or a free demo, please contact us on +44 – (0) 203-872-5140 or email us at
info@silvertouchtech.co.uk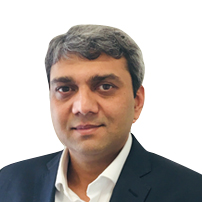 Kunjan Jasani
An experienced business leader, heads the UK operations of Silver Touch Technologies Ltd. With 15 years of experience in the industry, he has set the track record of delivering transformation and revenue growth with SAP Solutions.