Close
Avail Free Consulation
7 aspects to consider before choosing a SAP Business One Solution Partner
Choosing SAP Business One for your organisation is a great step to helping you grow your business. However, selecting the best implementation partner is also a crucial factor in the decision making process. Here are a few parameters that are necessary for every organisation to consider before selecting the right
SAP Business One
Partner!
Is the Partner an Industry or Vertical Expert?
Industry or the vertical expertise is one of the most important aspects when selecting your solution partner. It is important that they have domain knowledge and expertise along with previous experience for the implementation of your solution for your business. They must have both an excellent level of product expertise and also the understanding of your business unique requirements.
What s the Partners Overall Track Record?
When looking for the right SAP Business One Solution Partner, ask them for proof points of their track record. Do they have the industry vertical knowledge you are looking for? Ask for customer testimonials and references. If the SAP Business One Solution Partner you are evaluating has worked for businesses like yours, and have a successful track record, then you have made a good choice!
Does the Partner Understand your Requirements?
Understanding your requirements is fundamental to the success of your implementation. You must ensure your solution partner really understands your needs! Ask they how they intend to reflect your needs when implementing the solution. Make sure it is part of the acceptance criteria. At the start of your implementation, business requirements should be an integral part of the plan.
What more does the Partner Offer?
Not only implementation services, but other offerings like licensing, add-ons development, training and support services, hardware & server solutions should also be part of the service offering. The complete span of the solution, from procurement to post deployment services should be offered by the partner, it may be on premise or on cloud solution. This would ensure you have a one stop solution provider who offers total support.
Is the Partner able to offer 24/7 support?
Will the Partner be able to offer you support when you most need it? Seven days a week, 24 hours a day. For example, you encounter a problem when trying to close your books at year end, or you want advice on how to produce a new variant of a report, or your system has crashed due to a hardware failure.
Does the Partner have an Experienced Team?
Partner employee knowledge and expertise are key requirements for the successful implementation of the SAP Business One solution. How many skilled individuals does the partner have? Do they have the necessary accreditations from SAP? Will they be available to me for my project? Will they be able to react quickly to resolve any issues I may have further down the line once live?
Is the Partner Flexible and Adaptive?
Flexibility and adaptability in today s business environment are an absolute must. Flexibility is needed as the business changes with time and circumstances. The partner must be able to demonstrate their flexibility and show how adaptable they can be to meet your business needs. The SAP Business One solution with the 'right' solution partner leads to a successful implementation of the solution and continues business growth in an efficient and effective way.
SAP Business One Solution + Right Implementation Partner = Business Growth
About Silver Touch
Silver Touch is a channel partner of SAP and has expertise in 15+ industry verticals. Silver Touch has 90+ successful SAP Business One implementations with 100% delivery record over the last seven plus years. Silver Touch offers the complete solution. This can be from license procurement, installation, implementation, customisation, add-on development, training and support services. We also can provide you with a cloud based solution. For further information or a free demo on SAP Business One, please contact us on
0127 736 4689
or email us at
info@silvertouchtech.co.uk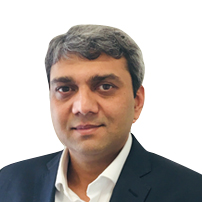 Kunjan Jasani
An experienced business leader, heads the UK operations of Silver Touch Technologies Ltd. With 15 years of experience in the industry, he has set the track record of delivering transformation and revenue growth with SAP Solutions.